You Don't Have to Take Our Word for It!

Here's what some of our satisfied customers have to say about Fink's Car Care: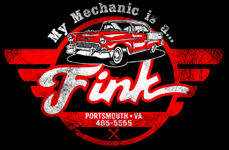 10/20/2020
These guys are amazing! I got my car inspected there I had a few issues and they fixed them all at a very reasonable price. One of my tires kept going down and because I work odd hours I wasn't able to get it back quickly I took it in and they fixed it for me right away! So wonderful of them! Rainbow is the bestest!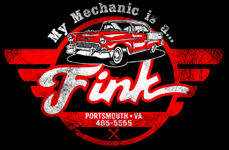 10/06/2020
Friendly people with wonderful customer service and very reasonable prices. Called when they opened up and had my car serviced in just a few hours. Rainbow the front desk man was extremely thorough when explaining what was going on with my vehicle. I highly recommended Fink's and I will be going back!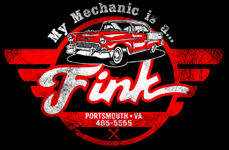 09/28/2020
For anyone who needs the state inspection or other things like oil change in Portsmouth, VA, I recommend this place.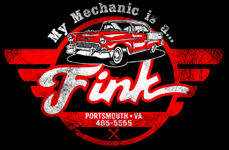 09/28/2020
The service was extremely good as always rainbow always on top of everything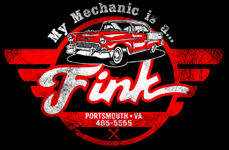 09/02/2020
Nice people. Fast and reliable service.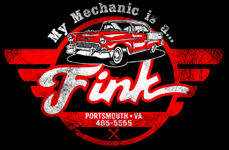 06/25/2020
Very fast add, do good quality work. Thank you very much!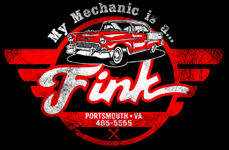 06/15/2020
Very NICE ,I felt welcome.... HONESTLY! I NEVER ONCE FELT UNCOMFORTABLE because of my skin color...HE TALKED TO ME, & he felt LIKE FAMILY to me ... THANK YOU!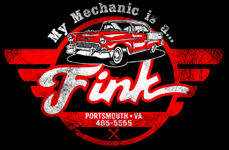 05/05/2020
Good service,fair prices.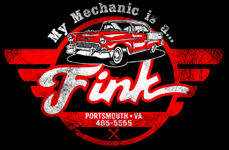 05/05/2020
The good folks at Fink's have always treated me as a valued customer and provide excellent work.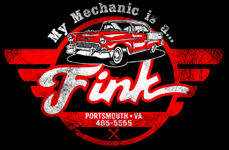 04/27/2020
Cheerful, Friendly and Great Customer service.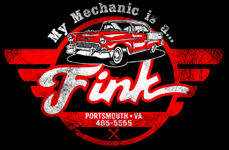 04/08/2020
Fink's is always fast and professional. The work is done right and Rainbow is always there to make you feel at home.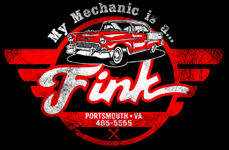 03/27/2020
Great service and great people willing to help out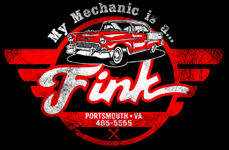 03/25/2020
Great guys, always a fair price, that they will work with you on. Love those Finks!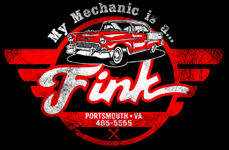 02/06/2020
Family own and operated. They know me by name. They go the extra mile to help. A pillar of the community and friend of the elderly.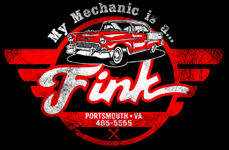 01/24/2020
Great conversations with Mr.Rainbow every visit. The service is beyond customer care and the mechanics always do an awesome job.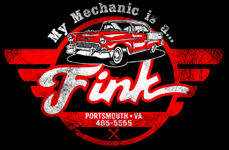 01/06/2020
My wife's engine oil cooler in her 2010 Chevy Aveo wasn't working and oil was mixing with the coolant. Took it to Fink's and they fixed it right up.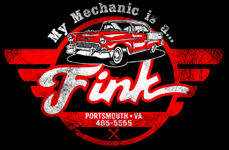 01/06/2020
Awesome mechanics. Everyone there is super nice and fair prices for the work. Been going there for five years. As long as they are in business I will always go there.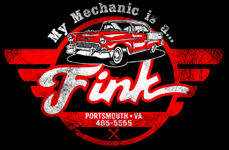 01/06/2020
Tall order. They do the job right the first time. They have been my "go to" automotive repair shop for over 30 years. Enough said.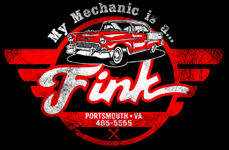 01/06/2020
Awesome business! Very professional and helpful.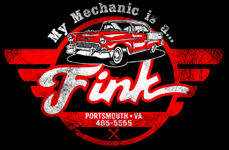 01/06/2020
have been taking all my vehicles to Finks for years. They are the most honest and hardworking shop around. I have never been less than 100% satisfied with their work and they treat you like family (the good kind of family).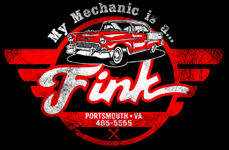 01/06/2020
Always great service, highly recommend!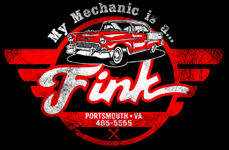 01/06/2020
AS USUAL !!! Very professional, work done in a timely manner and always at a reasonable price! I have been bringing my cars to Finks for years and have Never been Disappointed in the service or the price. You can't go wrong with Finks Car Care!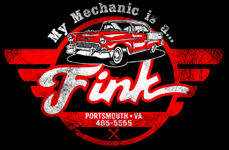 01/06/2020
Friendly service all around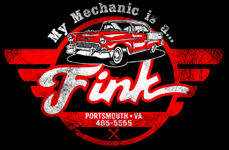 01/06/2020
Great service and very friendly staff!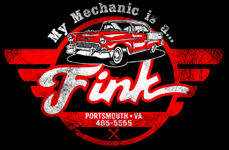 Competitive Prices
01/06/2020
Most TRUSTWORTHY Auto Repair Business I have ever dealt with. The whole crew goes the extra mile for the customer. Quality and competitive cost.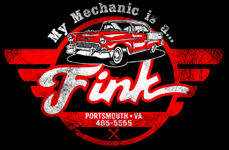 Friendly Touch
01/06/2020
Awesome service with a friendly touch.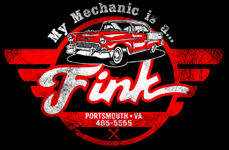 Quality & Friendly Service
01/06/2020
Always receive quality and friendly service. Personnel are honest and never try to indicate that we need unnecessary work performed.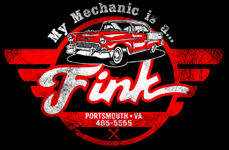 01/23/2014
They have always treated us like family. Open and honest about what really needs to be fixed and what is unnecessary should finances be an issue. No $95 diagnostic fee just for bringing it in the door. We bring our personal and small business vehicles up there. I highly recommend them. It's worth the drive even if you live 30 minutes away.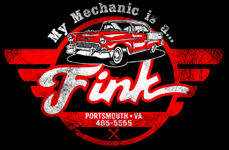 02/09/2015
Great place...did a great job on Nicoles ford edge..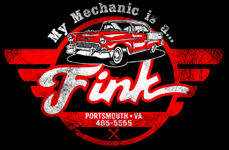 04/01/2015
Every time I bring my car here I never get anything less then a big smile and great customer service. Everyone that works there treats you like a friend instead of a customer. I highly recommend Fink's. You won't be disappointed because they are to the point with no bs. They take pride in their customer service.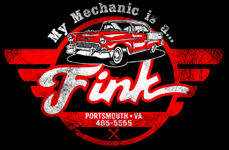 10/28/2015
I've had work done here twice and they always take care of me, thanks Rainbow.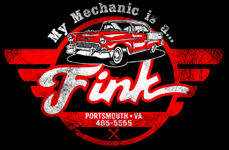 07/15/2016
I did not intend on being at finks today although my truck broke down right on the side of the road in front of finks! They were not rude at all, they were so friendly helped us out even allowed my kids to sit inside with my sister while I waited for my husband to come to fix the hose on my truck! They are just really great people, someone else could of kicked us right back to that curb in that hot truck!! Thank you so very much FINK'S you are highly recommended and appreciated!! Great people great place!!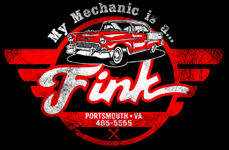 02/06/2017
I'm giving a shout out to Rainbow and his team. Thank you for the great service today!!!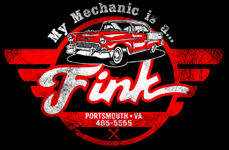 04/29/2017
Finks is the best! I had my car repaired here a few months ago. The car today had the same trouble again, so I brought it back. It turned out the part they replaced broke so they replaced it for free! They could have easily said it was a different coil that was defective but they didn't. Honesty is hard to find these days. I can't recommend them enough and will always go here for now on.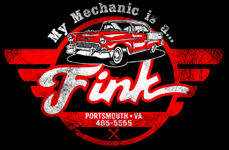 05/17/2017
Been taking my vehicles here for years. Actually got my mom and dad to take their cars here too. Honest guys that I trust with my vehicles and know that they will tell me the truth. They will continue to have my business.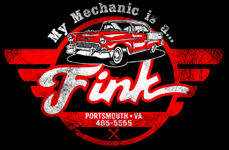 07/18/2018
Finks took care of us! Costco fuel mix up put diesel in our petrol car. Super affordable. Easy fix for them. So friendly! If you live in the area 150% recommend Finks for your mechanic needs!! Thanks so much guys!!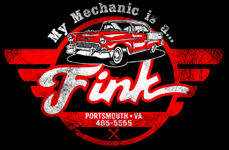 07/27/2018
We have been with Fink's for more than thirty years. Their honesty, skill, and caring relationship with their customers are why we won't deal with anyone else. Thank you to David, Jr, Rainbow, and the Fink's staff for always being there for us. 5 Stars always.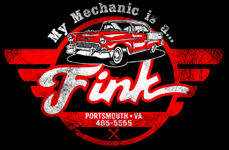 07/31/2018
I wouldn't want my car to go anywhere other than Finks. They've been taking care of me for years and I have never experienced anything other than honest, friendly and professional service. These guys are the best!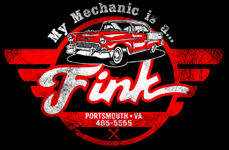 Top Notch
Car & Truck Care
12/31/2019
I am so thankful for the honesty and integrity of this amazing service station. I am so thankful when I drop off my car for either maintenance or repair work that I am going to receive quality work and when I drive away I know I am safe to drive my car again. I highly recommend them to anyone who needs repair work or even just an inspection. They are a top notch garage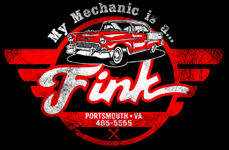 Convenient Services
Car & Truck Care
12/19/2019
Extremely friendly, had an appointment available the next day. Convenient night drop box. Great service and reasonable price.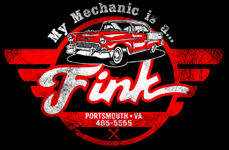 Friendly and Fair
Car & Truck Care
12/05/2019
We always have our vehicles inspected at Fink's. They are friendly and have fair pricing on repairs.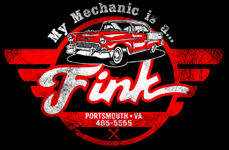 Great place I highly recommend.
Car & Truck Care
12/03/2019
Very friendly and professional. I didnt take enough cash to fix my car and the manager literally let me drive their company truck home to get money to fix my car..that is going above and beyond to me..I highly recommend this place.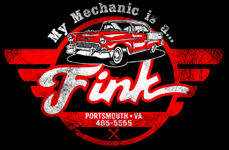 Long-Time Patron
Car & Truck Care
11/14/2019
I have been a patron of Fink's Car Care for years. They are knowledgeable, well staffed, friendly and they perform state inspections. I recommend Finks very highly and believe that if you use their services, you will become an outspoken fan of theirs as well.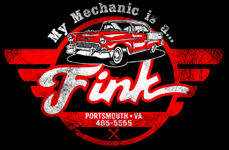 Car & Truck Care
12/19/2019
I was greeted by a friendly and helpful gentleman. My first impression didn't disappoint. My vehicle was serviced with no "surprises" added to the final bill. The entire staff was professional and knowledgeable. I have already referred my daughter & will be sure to direct others to Fink's Care Care.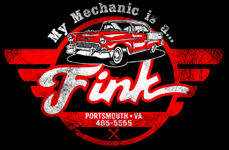 Car & Truck Care
12/16/2019
I have been a patron of Finks for years, and I love them. The service is top notch, the quality is superb, and the atmosphere is comfy and cozy!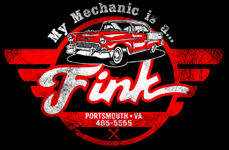 Nice and friendly, family orientated.
Car & Truck Care
12/14/2019
This is the best shop in Hampton Roads. I've been going there for the past 12 years. You Cant go wrong!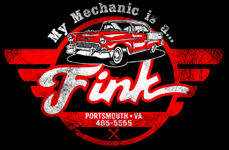 They have a customer for life!
Car & Truck Care
12/08/2019
The service was great, fast and the atmosphere was so welcoming!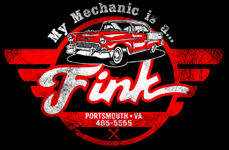 Family run business that's been around for years
Car & Truck Care
12/05/2019
My daddy took his vechiles here. He's gone now. Guess where I take my cars? I take them to Finks. Work trucks and personal vehicles clean up real good at this car wash.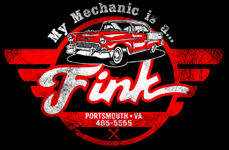 FORGET THE DEALER
Car & Truck Care
11/13/2019
The ONLY place I will have service my Edge....professional, knowledgeable, and friendly atmosphere. As woman I'm always on guard for mechanics who try to sell more than needed...... FINK'S didn't do that! Thanks to these guys for being HONEST & FAIR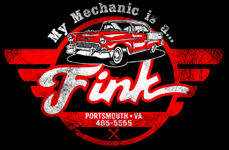 Friendly Service
Car & Truck Care
10/28/2019
Great mechanics and they get the job done at a fair price I would recommend them to anybody.
I have been there twice for work to my car and I was very pleased with the professionalism they showed me and the great service that they did.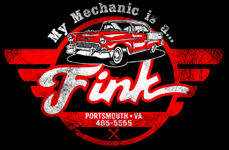 Knowledgeable friendly and reliable service!
Car & Truck Care
10/01/2019
A shop that stands for and behind its workmanship.